It's a Great Time to Give to Ark!!!

Shaw Birdies For Kids presented by AltaLink is Back!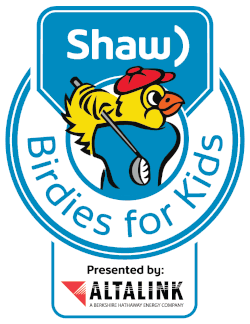 Why you Should Give To Ark
Your donation is invaluable to us and we are extremely grateful that you chose to donate your hard earned money to us. 
Around 95% of our costs go directly to our projects, so you can rest assured that your donation will have a tangible impact on our ARK Kids.
Because of Sue and Cindy's experience with renovations and nonprofits, our team knows that not all of the children are living in accessible homes that suit their needs. Our vision is that no child should unduly struggle with accessibility in their own home. Your donation will help take us one step closer towards that vision, one child at a time.
Your gift will help Reshape Their World.
Shaw Charity Classic Is Back!!
The intrepid folks at Shaw Charity Classic and Shaw Birdies for Kids presented by AltaLink are hitting the driving range to get back in the swing!
Here at ARK we cannot thank them enough for their generous support of our mission. In partnership with the amazing generosity of the ARK community, this has the potential to be an incredibly successful fundraiser.
Click on the BFK Donate buttons and donate to ARK through the Birdies For Kids' ARK webpage. Every donation will be matched up to 50% by Shaw Charity Classic. 
This incredible matching opportunity will go a long way to help us Reshape Their World!
Donate today!